Birst Fridays – bring your Birst questions
The Birst User Group (BUG) will be hosting our second Birst Fridays Event on the first Friday in May, May 7, from 12 to 2 PM ET.
This online monthly two-hour community virtual forum is facilitated by current and legacy Infor Birst Services resources. Each forum will take place on the first business Friday of every month from 12:00 to 2:00 PM EST.
Please come with questions and we will do our best to answer them. No canned presentations, no sales goals, just questions answered, and issues resolved. Time permitting, we may just go ahead and make that tweak with you!
May will feature Ching Cooper of Birst Services and me (Cindy Hoskey) from the Infor Birst User Group Board of Directors. Additional resources will be available as 2021 progresses.
Please note: Attendance is currently limited at 200.
To register for the event and join BUG, please follow the steps below.
1) Join BUG:
Log in on the Infor Communities site (https://community.infor.com/g) and view All Communities then find the community named "Birst – User Group – Birst User Community" and join when asked.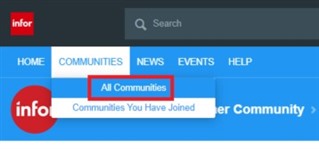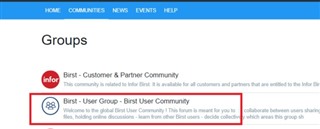 2) Register for the event:
Once in the community, click on the Calendar link then choose the next Birst Fridays event.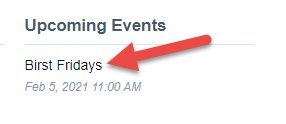 We hope to see you all there!