Birst Friday for March – earlier time and special guest
The Birst User Group (BUG) will be hosting our third Birst Fridays Event on the first Friday in March. By popular demand, this month the session will be held a few hours earlier, on March 5, from 10:00 AM to 12:00 PM ET, in order to accommodate our colleagues in other time zones.
And since the event has been a success, why not expand the fun! Our special guest will be Ching Cooper, current Birst Services Consulting Solution Architect, bringing some of the deepest experience with the Birst Pre-Built Content available.
As before, please come with questions and we will do our best to answer them. No canned presentations, no sales goals, just questions answered, and issues resolved. Time permitting, we may just go ahead and make that tweak with you!
In addition to Ching Cooper, March will once again will feature Bill Payne and me (Cindy Hoskey) from the Infor Birst User Group Board of Directors.
Please note: Attendance is currently limited at 200.
To register for the event and join BUG, please follow the steps below.
1) Join BUG:
Log in on the Infor Communities site (https://community.infor.com/g) and view All Communities then find the community named "Birst – User Group – Birst User Community" and join when asked.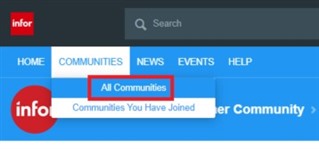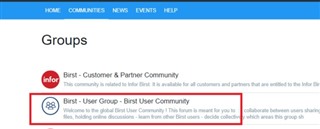 2) Register for the event:
Once in the community, click on the Calendar link then choose the next Birst Fridays event.

We hope to see you all there!